We are now taking pre-orders for the new T-Shirts!
The shirts are Hanes Tagless Unisex in "Ash Grey" Cotton/Poly, silk screened two sides. The design (front & back) is shown below.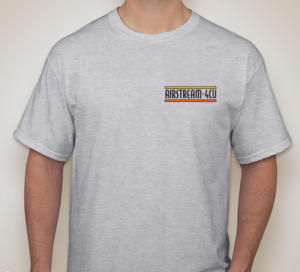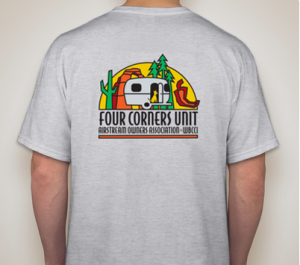 Please use the Pre-Order From to assure availability. Pre-orders MUST be received no later than 10 Dec 2015. Pre-orders will be delivered to NY's Rally attendees, and orders requiring shipping will be sent in early January after the NY's Rally. Quantities and sizes available for purchase at the Rally will be limited.
In general we are offering Short Sleeve Shirts in Medium, Large and XLarge. These are just $14 each + Shipping (if required).
HOWEVER we are offering three additional options which will be available ONLY by special pre-ordering. (if you want these options you MUST pre-order them … they will not be produced for inventory and later sales):
(1) Long Sleeve at $22 each
(2) Size Small in both Short Sleeve ($14) and Long Sleeve ($22)
(3) Size XXLarge (in both Short Sleeve and Long Sleeve) … Add $2 to the cost for each XXL Shirt.
Complete and snail-mail your Pre-Order From with payment (made payable to Four Corners Unit) to Howard Efner (address on form). Again, Howard MUST receive pre-orders by 10 Dec 2015. Online ordering will not be available until January, 2016, and the special pre-order options will not be available at that time.
Go 4CU!
November 17 2015 | Uncategorized | No Comments »